Frequently asked questions
Why are some candles considered unhealthy?
---
There has been a lot of research lately put into the ingredients we use to manufacture products that we use in our homes. Candles are no exception. Many of the big-box stores and candle retailers use parrafin based candle wax because it is cheaper to produce, easier to use and often produces more of a scent when lit. These all sound like great factors, but unfortunatley they come at a pretty steep cost. Parrafin is a petroleum by-product (yes, just like diesel) and when lit, it releases a highly toxic substance known as benzene and toluene. Both of which are known carcinogens and can trigger asthma and even pose a risk for certain types of cancers. Not to mention that many of the fragrances used in these candles can contain phlatates (used to help the scent linger) and some of the wicks may even contain traces of lead in the filament. All of these substances can be very harmful to the human body and causes pollution in our homes. Camp Candle Co. only uses 100% Soy Wax, which is a naturally produced, vegetable based wax. All fragrances used in both the candles and the melts are naturally derived and contain zero phalates. In our tin candles, we use wooden wicks which are considered to be cleaner burning, leaving less soot residue and carbon build-up. In our tealights we only use a 100% cotton wick that contains zero lead particles. We have strived to create a candle that only produces a sense a peace and comfort for your home, with no pollution or harmful ingredients!
---
What on earth is a "Phthalate"?
---
It is quite all right that you have maybe never heard this term before, but it is definitley a good thing to be aware of! Phtalates are defined as, "a group of chemicals used in products like toys, detergents, nail polish, and hair spray. They're used to make products more flexible and harder to break". They're are a few reasons that they can sometimes be found in fragrance oils and other fragranted products. Certain aroma chemicals come in powder form, so a phthalate like diethylphthalate (DEP) is used to convert them into a liquid. That helps the fragrance blend better and burn more easily in candles. DEP is also a fixative, which makes scent last longer in perfume, soap, and lotion. Although Phtalates, when used in appropriate amounts are considered to be "non harmful" to humans, they have been linked to many health concerns and questions. Based on the research I conducted myself, I decided I did NOT want to make any products containing this compound! I do recommend you reading up a bit on it yourself to form your own opinion. Because this compound is used in so many of our products, it may be something you want to pay attention too!
---
Will this candle fill my whole house with scent?
---
I guess it depends on the size of your house! But the short answer is....probably not. There are a couple of reasons for this; the first one being that all scented candles are often compared to the scented ones we see in the big box stores (i.e. Parrafin) and parrafin is formulated with specific chemical compounds that enable it to "throw" that type of scent. Because Soy does not contain these chemical compounds, it cannot throw the scent that easily. You will still get a great smell from your candle, but it just might not carry as far! The candle tins are suitable for filling smaller spaces like a bathroom or small bedroom, while our wax melts can usually fill a larger space. We try and make a selection of candles with both mild and strong scents. If you are looking for a strong candle or a mild one and are not sure which to choose, just send us a message and we would be happy to offer some suggestions!
---
How is your wax sustainably sourced?
---
I only use 100% natural and organic soy wax that has been grown and farmed in the USA on a certified organic farm with no use of pesticides, fertilizers or GMO's. Our wax is considered both vegan and kosher. We do not support deforestation in other countries for the soybean industry and strive to be not only educated about it, but to educate others.
---
My candle makes a crackling sound, is that normal?
---
Yes! That is a bonus of the natural wood wick! Not only does it create a wonderful ambience, it crackles just like you are next to a real fire.
---
What safety steps do I need to follow to ensure the safe burning of my candle?
---
Good question! Candles are wonderful additions to our homes and decor, but if used incorrectly, can have disastrous consequences. To ensure safe and optimal burning of your candle, please: - Only burn your candle on a flat, level surface away from children, pets or anything that could catch fire (like curtains) - Never leave your candle unattended - Only burn your candle for around 4 hours at a time, at which point extinguish the flame and let the candle reset. - Keep your wick trimmed to 1/8" for the wooden wicks and 1/4" for cotton wicks - Never stick anything into a lit candle - Discontinue use when 1/2" of wax remains at the bottom of the candle. All candles have been rigoursly tested for optimal safety, do your part to keep your home safe with proper candle care!
---
Why do I need to burn my candle for 3 hours the first time?
---
It is important to burn your candle the first time for about 3 hours, or until you reach a full melt pool before extinguishing. Soy wax has something called a "wax memory", which means that it often only burns to the point that it burned last. So if you blow out a candle before it reaches a full melt pool, you may have problems reaching the outer most parts of the container on the next burn resulting in wasted wax and tunneling. If your candle tunnels, it will most likely drown the wick and render the candle unusable.
---
How do I trim my wick?
---
You can purchase wick trimmers from many stores and online, but I have found the easiest way is to use nail clippers! Simply use nail clippers to trim either your cotton or wood wick to where it needs to be before lighting (1/8" for the wooden wicks, 1/4" for cotton). If you just purchased your candle, the wicks have already been trimmed to the appropriate length for you.
---
What Safety Protocols has your company taken?
---
All products produced by Camp Candle Co. have undergone industry standard safety tests which include burn tests, product durability tests and pollutant tests. So long as the proper candle burning directions are followed, these candles are considered safe to burn. The tins will not overheat, the candles will not re-ignite and the products do not produce harmful or excessive pollutants into the air.
---
I have another question...
---
If you have another question, or a specific question about one of the products listed on this site, please email Megan at info@campcandleco.ca and I will be happy to assist!
---
I burned my candle and now it has a bumpy or uneven top
---
Don't worry! This is a natural property of soy. When the wax cools, it sometimes leaves a bumpy or uneven top. This will not affect the candles scent or other properties at all. This is just something soy does. Embrace the imperfections! This is how you know that this is a pure soy candle!
---
I have a Scentsy Brand lightbulb warmer at home, will this work with soy wax melts?
---
Your "Scentsy" or "Scentsations" brand wax warmer will work with your soy wax melts, just not to the best of its ability. Most of these brands of warmers are formulated to work with parrafin, which has a much lower melting point than soy. Because soy has a higher melting point, it requires a higher wattage bulb that these warmers don't include. For optimal results, I recommend using a lightbulb warmer that has a 350+watt bulb. You can also use a 2-in-1 warmer as these operate using a hotplate instead of a bulb, or a standard tealight warmer. Both of these will get warm enough to melt your soy wax and give you the best possible scent. We do have some warmers listed under the accessories section of our website that will work with soy wax. Safety Tip! Please follow all safety instructions included with your specific warmer and do not put a higher wattage bulb in a warmer that won't allow it. This is a fire hazard!
---
How can I start earning Camp Candle Co. Rewards Points?
---
Sign up for an account through our website to start earning rewards points! You will receive 1 Candle Point for every $1 spent. Plus additional bonus points throughout the year, when you share on social media or with a friend and 100 bonus points on your birthday! Receive $20 off your purchase for every 100 points redeemed! Sign up now and start earning points today!
---
What recycling programs do you have in place?
---
We have options for you to recycle and/or re-use your packaging. On all products there is a section titled "Don't throw me out" that has suggestions for ways for you to re-use your packaging or how to recycle it properly. We also encourage users to come up with new and unique ways that have re-used your packaging (Bonus if you post a photo and tag @campcandleco.ca in it, you may win something cool!). Alternatively, we offer a recycle and refill program. This program allows you to return your empty candle tins, tealight containers and/or wax melt packaging and we will clean it and refill it for you with purchase. In order to use this program you must: 1.) Return the packaging to us at your expense 2.) Include a note with the refill scent you would like, your email and your shipping address. 3.) We will email you an invoice for the new product and shipping which can be paid securely online. 4.) We will ship the refilled product back to you 5.) Your 5th refill will be on us! For more information on this program, please visit this page
---
How do I redeem Camp Candle Co. Rewards Points?
---
Please watch this video on how to redeem your Camp Candle Co. Rewards points: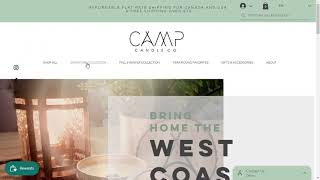 ---
Do you offer wholesale?
---
Yes, we do offer wholesale options for businesses looking to host Camp Candle Co. candles in their store. At this time we only offer our Candles, Wax Melts and Tealights for wholesale. Please visit our section on becoming a stockist for more information, or you can also find a limited selection of our products at wholesale on Faire.com. For more information on becoming a stockist >> campcandleco.ca/become-a-stockist
---
Do you offer Gift Cards or Gift Certificates?
---
We offer digital giftcards that can be redeemed online only at www.campcandleco.ca. Gift Cards can be purchased for yourself, or for someone special! Visit here to purchase Gift Cards can be redeemed on anything in the online store. Simply add the item(s) you would like to your cart and initiate checkout. Enter your shipping details and when you get to payment, there will be an option to enter a gift card number. You can go ahead an enter the giftcard number and it will be deducted from your total. If there is any balance remaining, this can be paid using your chosen payment method. Any unused balance will remain on the gift card for future use. Gift Cards are available in denominations of $25, $30, $50, $100, $150 & $200
---
Do your products contain any toxins, phthalates or parabens?
---
No, none of our products contain any toxins, pthalates or parabens. All of the fragrances we use are also considered bath and body safe and when we do use essential oils in our products, we ensure they are not ones that can produce levels of toxicity when burned and are safe for use in homes with children and pets.
---
My candle burned great the first time, but now I am struggling to get it to stay lit again?
---
Trim your wick! Wood wicks are awesome, but can be a little more finnicky than cotton ones. Most of the time, if your wood wick is having a hard time staying lit it is due to a build up of the burnt wood on the wick (it's like trying to light a campfire with a burnt piece of wood...it doesn't catch all that great). You can use your fingers to break off the charred bits from the wick, or use a pair of nail clippers to trim the burnt part from the wick. Then try relighting. If you trim your wick to short, melt some of the wax in the candle and then either pour it out or use a paper towel to soak some melted wax up, allowing more of the wood part of the wick to show. Then try relighting. If you are still having problems, please email megan at info@campcandleco.ca for additional troubleshooting!
---
---
West Coast Inspired | Nature Derived | Soy Wax Candles & Melts | #realwild